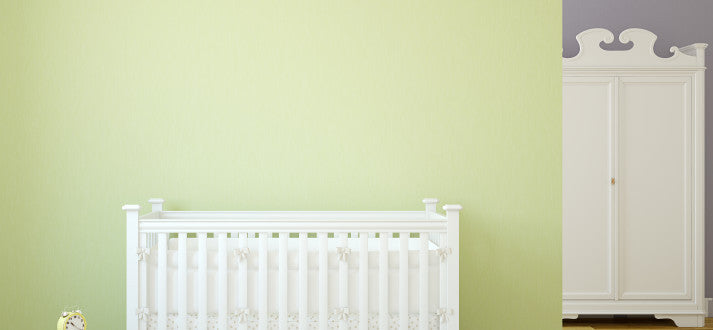 Creating a clean, green, and safe space for your little one doesn't have to be a challenge. There are some simple ways that you can make a nursery healthy and comfortable. Here's how to create an eco-friendly nursery for your baby:
Low VOC Paint
Use a low VOC paint for both the furniture and the walls. Most paints contain Volatile Organic Compounds (VOC), which release toxic fumes into the air, so select a low VOC option to keep baby's room safe and non-toxic.
Organic Bedding
Keep baby cozy with organic cotton bedding. Organic cotton is grown on farms without the use of pesticides and harsh chemicals, making it a natural choice for anyone wishing to reduce their exposure to toxins. Both you and baby will rest easy knowing that the sheets and blankets are soft and safe.
Remove Old Carpeting
Carpeting isn't the best choice in your child's room because it will collect and retain allergens. Carpet fibers trap dust mites and other allergens, so it's best to go with hardwood flooring in the nursery. To create softer, more defined areas on the floor, use smaller area rugs.
A nursery should be an inviting, safe haven for your precious little one. Take the time to choose a low VOC paint color for the walls, select soft organic cotton bedding for the crib, and make the space as clean and healthy as possible by tearing out old carpeting and putting in laminate or hardwood flooring. It will be an eco-friendly room that your child can grow into and enjoy for many years to come.
February 01, 2016
Corey Creed