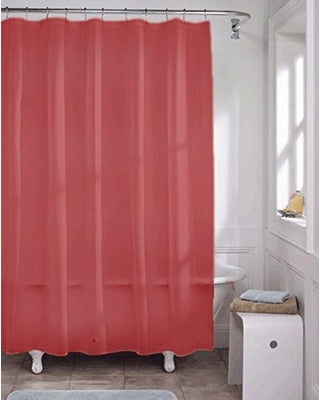 It is high time for the consumers to be aware of what they are using in their homes, which can be a potential health hazard for them and their families.
One of these items which is extremely hazardous to us and our families are the PVC shower curtain liner, which are seen in most of the household's bathrooms in this country.  Do you know these PVC shower curtains are made from polyvinyl chloride (PVC) plastic, which contains a number of toxic chemicals?
If you have that "new shower curtain smell" from your curtain liner, then it is definitely coming out from the several indoor air pollutants of polyvinyl chloride, which is extremely hazardous.
What makes PVC Shower Curtain hazardous?
The chemicals released by PVC shower curtain liners are volatile organic compounds (VOCs) which may cause respiratory irritation, damage to the central nervous system, liver and kidneys, nausea, headaches, and lack of coordination. The most common symptoms that occur with exposure to VOCs include eye irritation, nose and throat discomfort, breathing problems, allergic skin reactions, headache, nausea, vomiting, fatigue, dizziness and nosebleeds.
The study released by the Center for Health, Environment & Justice (CHEJ), the Washington Toxics Coalition, People For Puget Sound, and the Toxic-Free Legacy Coalition shows that as many as 100 toxic chemicals, which are associated with adverse health effects, are released into the air from PVC vinyl shower curtains. These are the chemicals, which make up that "new shower curtain smell" which is unique to PVC vinyl shower curtains and shower curtain liners.
In this case, the solution is to avoid these shower curtains and liners, which are made with PVCs. Instead, look for PVC-free shower curtains, which are widely available in the market. Many of these PVC-free shower curtains available in the market are easy to clean and maintain, affordable and are eco-friendly as well.
Some of the PVC free shower curtains and curtain liners, available in the market these days are PEVA/EVA shower curtains and fabric shower curtains.
PEVA/EVA Shower Curtains:
PEVA shower curtains are the smart choice to pick when you are throwing out your PVC shower curtains. PEVA shower curtains are non-chlorinated and PVC-free, hence making these curtains the perfect environmental friendly option.
PEVA and EVA shower curtains are available in a variety of different colors, patterns, and styles.
These curtains are definitely very low in maintenance and are very easy to clean. They are also very durable.
Fabric shower curtains:
Fabric shower curtains are machine washable, so they are very easy to maintain.
They appear great and luxurious while adding warmth to any bathroom. They are available in a variety of different materials. You can pick the one that suits your need.
If you wish to browse or buy PVC- free shower curtains, we sell Premium PEVA and Eco friendly Shower curtain and shower curtain liners.
Click on the link below to know more about our products.